AOAC China Section successfully hosted the forumtitled advanced techniques of food safety analysis & AOAC SPIFAN with Chinainvolvement

With the purpose of promoting international standards harmonization,exchanging the technical information and getting to know the new and advanced technicaltrends on food safety analysis, as well as understanding and being involvedwith the AOAC SPIFAN Program (International Stakeholder Panel on Infant Formulaand Adult Nutritionals) , AOAC China Section successfully hosted the Symposiumtitled advanced techniques of food safety analysis & AOAC SPIFAN with Chinainvolvement in Suzhou, China on April 22-24, 2015.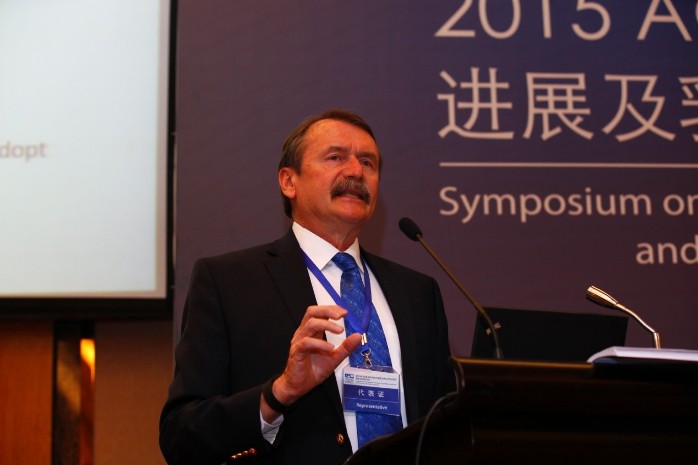 More than 350 attendees from 65 organizations participated in the meeting, constitutedby AOAC SPIFAN working group, Committee members for the Review of ChineseNational Food Safety Standards and authors of standards, experts from Chinesegovernment laboratories, and industries, with a good balance of governments,associations, universities, academics, food manufacturers, instrumentmanufacturers, and independent testing laboratories. The symposium wassupported by Nestle and other organizations.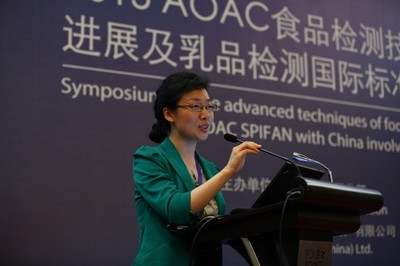 Dr. Lei Bao, president of AOAC China Section, board director of AOACINTERNATIONAL, chaired the meeting on April 23. She gave an opening address,introduced and welcomed attendees, and briefly introduced the purpose of themeeting. She also gave a presentation on the validation program and process ofAOAC methods including OMA and PTM.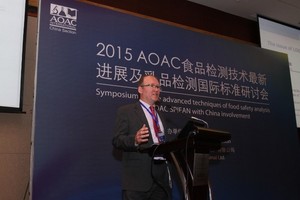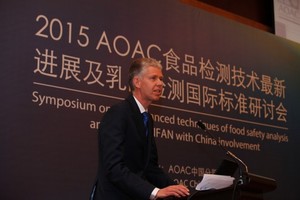 Dr. Erik J.M. Konings, President of AOAC INTERNATIONAL, expert from Nestle,Switzerland, illustrated his points on AOAC future role and internationalcollaboration in standards development from global trade facilitation aspect.Mr. Guo Xiliang, Deputy President of China inspection and QuarantineAssociation, addressed his speech on Strengthening International Cooperation onFood Safety Technology and Standard. Dr. Darryl Sullivan, Board director, AOAC INTERNATIONAL,Chair of AOAC SPIFAN, introduced SPIFAN Program and new progress of SPIFAN.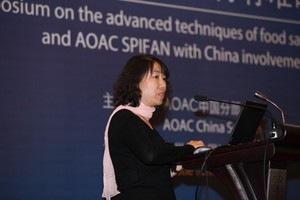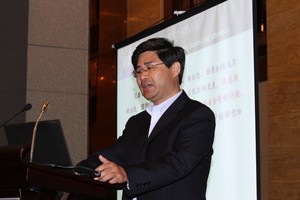 Prof. Jing Xiao, from China National Center for Food Safety Risk Assessmentgave a presentation about the Integration of the National Food Safety Standards(GB methods Chemical).Dr. Jiang Yuan, Deputy Director-General of JiangsuEntry-Exit Inspection and Quarantine Bureau, made a keynote speech onQualification, Quantification and Positioning of Campylobacter Jejuni. Directorof Technical Center of Shandong Inspection and Quarantine, Dr. Liang Chengzhudetailed his opinions on New Normal State for Food Safety, which are newconcepts on testing of exit-entry foodstuffs. Dr. JoergStroka, experts from EU reference laboratory, addressed the topic on recentactivities of the EURL for mycotoxins in view of modern analytical methodperformance. Dr. Susie Dai, research associate professor at office of the TexasState Chemist, shared her points on rapid methods for chemical contaminant analysisand its novel application in mycotoxin risk management. Academicans, professorJana Hajslova and Dr. Milena Zachariasova from Institute of Chemical Technologyin Prague, gave their presentation on traceability and authenticity, as well asassessment of herbalbased dietary supplements chemical safety. Furthermore,professor Ren Yiping from Zhejiang CDC, Dr. Li Fengqin from China NationalCentre for Food Safety Risk Assessment, Mr. Xu Hongbin from Shanghai Instituteof Quality Inspection and Technical Research also gave their reports onrelevant topics.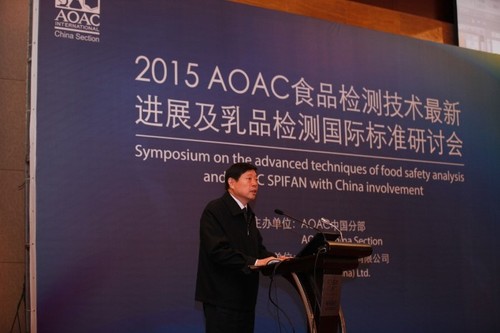 Additionally, there are other speakers from governments and industries,also gave wonderful speeches. The meeting, characterized with distinct topics,active atmosphere, positive interaction, built a valuable platform foropinions-sharing, topic-discussing for experts working with food safety. Thefruitful meeting impressed all attendees, leaving valuable reference fortechnicians in food safety analysis.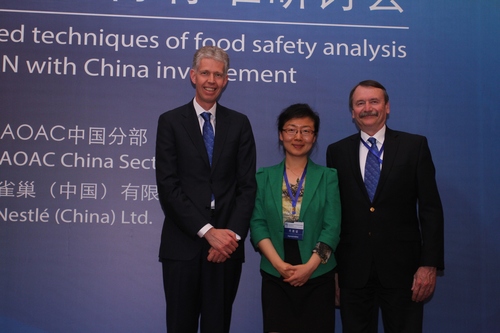 The contents of the meeting were subdivided into six themes and twoworkshops. Themes were specified as following: Dialogue on InternationalStandards Harmonization; RecentDevelopments and Applications in Testing Techniques for Food Safety; TestingTechniques and its applications for Infant Formula Powder; Progress inMicrobial Detection /Traceability Analysis; Trends on Analysis Techniques forChemical Contaminants; New Applications for Food Testing. The two workshopswere titled with 1) Quality, Safety and Detecting Techniques for Infant Formula&AdultNutritionals, and 2) Application of HighResolution Mass Spectrometry in Food Safety and Suggestions separately.
This meeting provided a good communication for Chinese and internationalexperts in the fields of food safety analysis and milk and milk productsdetection. The meeting was a good chance for Chinese experts to know more aboutthe validation procedure of OMA and PTM, and the new progress and technologiesin detection techniques worldwide.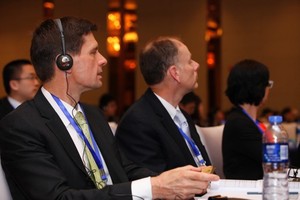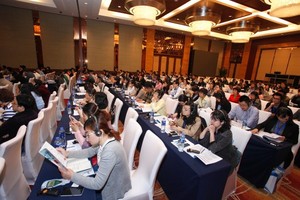 The comments and suggestions of the attendees have been collected by AOACChina Section. Voices from Chinese scientists were heard and will be adopted inthe AOAC methods development process. Furthermore, a bridge among experts frominternational organizations, governments, competent authorities, universities,relevant testing agencies, instrument companies and dairy manufactures has beenbuilt by AOAC China Section, which would help to make progress in developingmore AOAC methods and national analytical methods, also bring benefits toconsumers worldwide.
Contributed writer: Mr.Hongwei Zhang and Dr. Lei Bao